NOVA Landscape & Design is delighted to offer both real and manufactured stone veneer as finish option for our hardscaping projects. Stone veneer can bring timeless beauty to your patio, walkway, retaining wall, or entire home while also adding strength and durability.
---
The Beauty of Natural Stone
Thanks to its beauty, authenticity, and texture, natural stone will never go out of style. In the past, the contoured style of old-world masonry has been cost prohibitive. Stone veneer — whether natural or manufactured — is the modern answer to this age-old problem. Rather than sourcing and transporting all that solid rock, stone veneer lets you get the natural look of whole stone without all the cost. It's called veneer because it covers the exterior of your hardscape with a layer of stone 3" to 5" deep. Stone veneer delivers all the attractiveness and durability of stone at a fraction of the price by reducing material, transportation, and labor costs. When it comes to color and finish, the options are endless!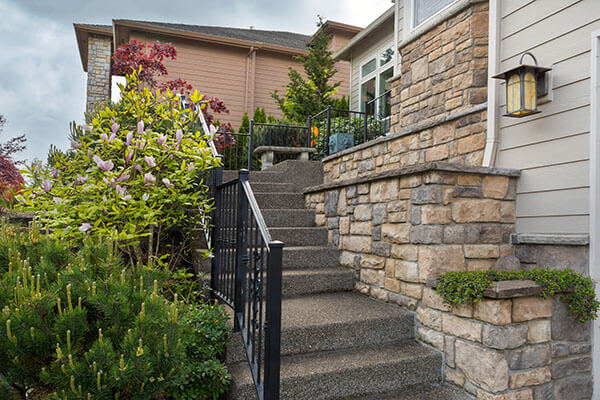 Natural Stone Veneer
Stone veneer is the latest trend in masonry application. Slices of natural, locally quarried stone are applied to the exterior of walls and structures. The foundation of those structures can be built from wood or concrete block. Veneer results in manageable tile-like pieces that cover far more surface for less money thanks to reduced material, transportation, and labor costs. At NOVA, our hardscape masons expertly install natural stone veneer in garden walls, outdoor kitchens, and a variety of custom projects.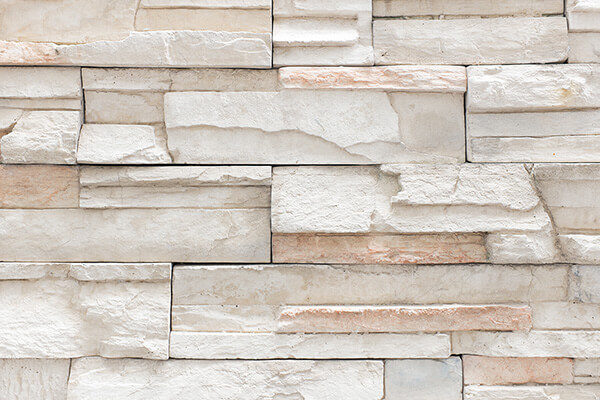 Manufactured Stone Veneer
Thanks to constant innovation, today's cultured stone is nearly indistinguishable from natural stone but offers all the same benefits — and more. When your goal is to reduce weight or budget, manufactured stone veneer can achieve results that would be impossible with real stone. Since color can be controlled during the manufacturing process, manmade veneer also offers an endless array of color options. Manufactured stone veneer shines in certain projects, and our team will be happy to incorporate top-of-the-line options from Belgard or Techo-Bloc into your hardscape.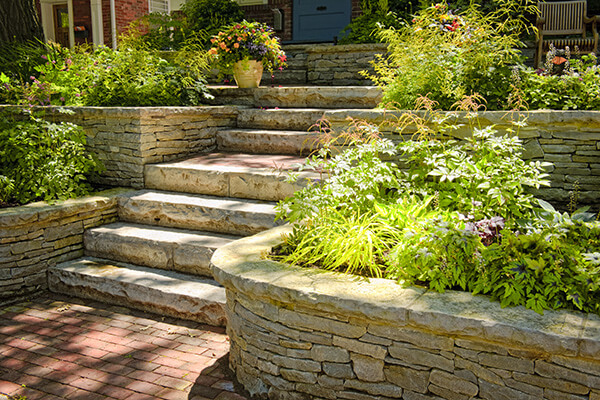 Stone Veneer in Hardscaping
Nothing adds beauty and durability to a home like natural, locally quarried stone. Now you can get the authentic look of stone or rock throughout your landscape for much less than the cost of traditional masonry work. Real or manufactured stone veneer adds a thin layer of natural stone to the exterior of hardscaping features for big results. It can be used on the face of a retaining wall, outdoor fireplace, fire pit, or pretty much any other surface. Highly durable veneer materials are resistant to rot, fire, and insects, and they add timeless appeal wherever they're applied. Trust NOVA's design and hardscaping teams to bring the style, color, and texture of stone to your landscape.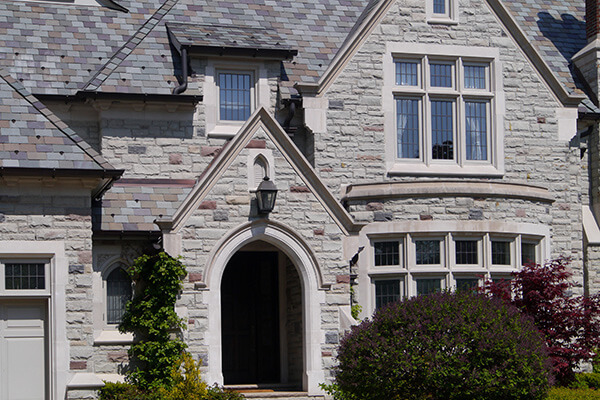 Stone Veneer as Siding
Don't want to limit the stone look to your landscaping? Use it in place of traditional siding to add timeless charm to an existing home or new construction. Both natural stone veneer and manufactured stone veneer can be used along the front, side, or back of a house. Stone siding provides a cost-effective way to bring the beauty of stonework to your home's exterior. These products mimic the color, texture, and feel of natural stone, and also offer improved weather resistance and increased durability with less maintenance than other sidings.  Use stone veneer siding to give your house a curb-appeal upgrade that lasts for the long haul.
Schedule an Estimate
Just submit your contact information, and a designer will be in contact with you within 48 hours to set up a time to meet. Based on your conversation, a design will be created for your project, along with a detailed estimate sheet. Please note that there may be a $20 consultation fee depending on the scope of work. 

Request an Estimate